"THE WOMAN WHO SERVED SATAN FOR 990 YEARS" – EVANGELIST'S BOOK CAUSES SOCIAL MEDIA STORM
A book by a christian Evangelist, Fumilayo Adebayo ,The Game Of Anti-Christ-Exposing the secret behind football, has become a subject of social media frenzy after one user disclosed he was handed the book as gift from a neighbour.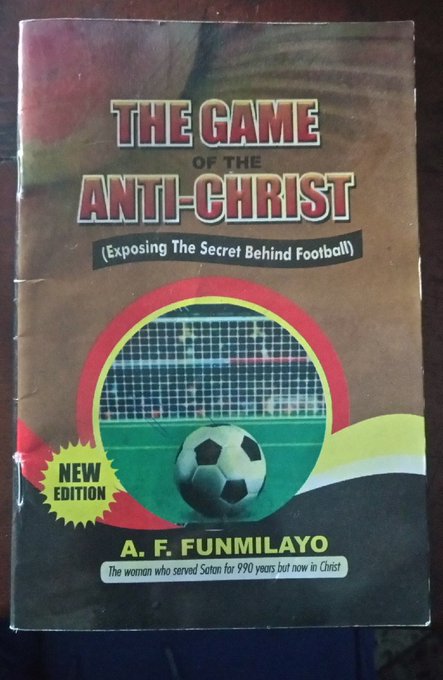 The author who refers to herself as "The woman who serves Satan for 990 years but now in Christ" claims to have exposed the secret behind the game of football.
According to her book, the game is controlled by the biblical Satan and both players and fans of the game were on their way to hell fire.
You can read the book online here
Alex Oluwatobi who is known as

@alexlobaloba on the social networking platform brought the attention of his followers to the book in this fashion;
My new neighbor seems not to like me, but I greet them anyways.

In bid to be a little friendly, I asked their 2 sons yesterday the football club they supports. They smiled, shook their heads & pelted upstairs.
He went further to share excerpts from the book and that attracted a lot of reactions.
See how people reacted below;
So you served Satan for 990 years and you came back to summarize 990 years in a small book.
You couldn't even attach quality pictures to the pages.

Even Satan won't be proud of you.
You spent so much time with him and you couldn't even narrate it well.
Nobel Laureate Olodo
The woman said she served satan for 990 years, that means people who said methuselah is the oldest were sexist
Lazarus was dead for 3 days and didn't come back with any message from Heaven or Hell
But people that fainted for 1 hour won't let us hear word

You served satan for 990 and just woke up one morning and sent in resignation letter lmao ok
The woman who served Satan for 990 years, is she immortal or was once immortal? 🤔

Religion won't let most of you have sense in this life.
So someone in my country served Satan for 990 year's?
This country is too risky for me.
How do you serve Satan for 990 years?

I have heard stories like this a couple of times and it could be mind-boggling if you are shallow with your approach
"The woman who served Satan for 990 years and is now in Christ"

Sister Funmilayo Methuselah
You served Satan for 990 years and all you brought was evil about football?

You can't even tell us how you wasted 990 years only to come back empty headed.
Source: DailyAdvent